Prospects
General development plan of Gazprom Dobycha Yamburg LLC was elaborated jointly with leading branch institutes. Preliminary estimations enable to forecast maintenance of annual output up to 200 bcm of gas per year until 2030.
In 2009, PJSC Gazprom adopted a decision to assign Gazprom Dobycha Yamburg LLC to develop green promising fields of the Ob and Taz Bays offshore areas. Probable gas reserves of these areas and adjoining coastal territory exceed 1,5 trillion cubic meters. The annual gas production of these two fields, the Severo-Kamennomysskoye and Kamennomysskoye-Sea fields, is anticipated to account over 30 billion cubic meters.
Taking into account potential production capacities of three more licensed sites (Antipayutinskoye, Semakovskoye, Tota-Yakhinskoye) total annual production is prognosticated to reach 60 billion cubic meters and more.
General development plan of Gazprom Dobycha Yamburg LLC envisages extension to the north-east by consistent development of offshore fields and also onshore group of Parusovoye fields.
It is scheduled to start the development of the Ob and Taz Bays with the Kamennomysskoye-Sea field. Afterwards the Company will proceed to the development of the Severo- Kamennomysskoye field. Next the turn of smaller fields comes. Pursuant general development plan of the Company perspective fields will be united into a production hub, connected with the operating Yamburg gas transmission system.
In 2013 the investment decision on Kamennomysskoye-Sea field design was affirmed. This decision means the beginning of development and construction stages of the first «offshore» field in the mid-term.
Taz tundra
It is scheduled that gas treatment, procurement and servicing of platforms, staff delivery and to name but a few will be realized on the basis of the settlement, constructed on the bank of Cape Parusny. The settlement will include a comprehensive gas treatment unit with the capacity of 30 bcm per year, a booster compressor station, gas pipeline transport system, a port and motor roads.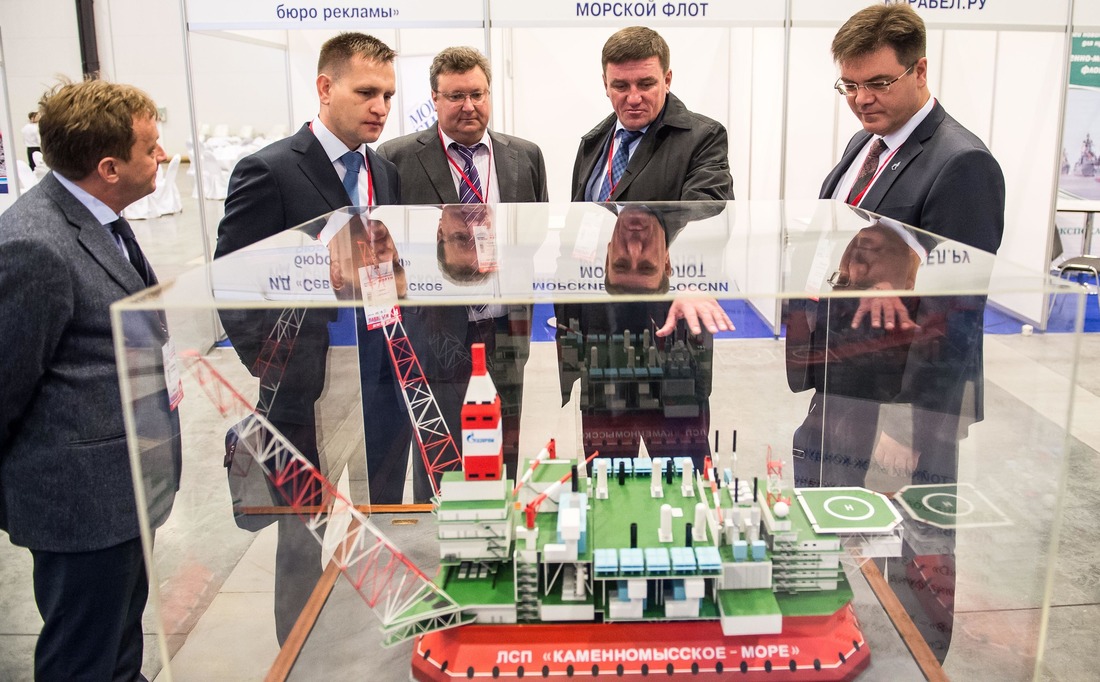 The model of an ice-resistant platform was exhibited at St. Petersburg International Gas Forum in 2016
New gas production complex at Cape Parusny will make economically feasible the development of Parusovoye and Semakovskoye fields, and it will be a platform for further steps through the Taz Bay to the Gydan peninsular — to the Tota-Yakhinskoye and Antipayutinskoye fields.